Descrição:
ESPECIFICAÇÕES:

Hot Rod Hydro - 1/25

Escala: 1/25
Comprimento: 223,83 mm
Largura/envergadura: 88,9 mm
Altura: 63,5 mm
Número de peças: 120

Requer cola, tinta e pincel

Características: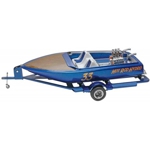 Hot Rod Hydro - 1/25
REV 850392 - REVELL - NCM: 9503.00.50
Sobre o original:
More is better. More power, more speed, more boat, more babes, and more time on the water. You can get a 'speed' boat from anywhere, but where's the fun in that? For a true hot-rodder's dream boat, you need to get a big, bad V-8, drop it in a flush dart of a boat and tell the skier to hold on tight. Kit features detailed big-block V-8 and drive line, full interior, boat trailer and water skis.


Faixa etária: 14 anos e acima

Imagens e fotos meramente ilustrativas. Aparência e características do produto dependem de como ele é montado ou utilizado pelo usuário.